OVERVIEW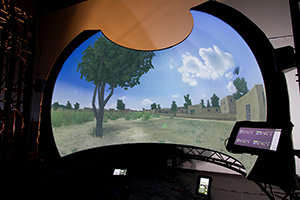 ImmersiveDome™ offers hemispherical dome displays, fulldome theaters and the recently-introduced panoramic displays. Immersive displays are available in three (3) different construction types:
Fabric:
Aluminum framework with reverse pressure screen.

Hard-shell:
Molded plastic or fiberglass-reinforced plastic screen.

Desktop:
A hard shell or fabric display that fits on a desktop.
On a custom basis we can provide displays of most any size up to 10-meters in diameter. Alternative configurations also include our horizontally-mounted TopDome (especially appropriate for certain flight-simulation applications), as well as tilted or raked domes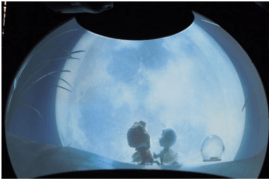 Immersive Display Solution's collapsible fabric technology is used for the full ImmersiveDome™ range of products including hemispherical domes, full dome theaters, cylindrical, and panoramic displays. The collapsible fabric displays make a strong visual impact, are ideal for transportable and semi-permanent installation and provide an efficient immersive environment that can be set-up and disassembled many times over the product lifetime to provide highly cost-effective training environments that are low-maintenance and rapidly deployable.
Engineered for durability, the structure is extremely sturdy, reliable and easy to use. The internal frame system is manufactured of anodized aluminum tubing, ideal for shapes with complex bends or curves, and includes connecting elastic cords and hardware components to enable rapid assembly and disassembly. An integrated reverse-pressure fan system pulls the fabric screen against the framework in order to provide a geometrically-consistent screen shape. The fabric exterior is constructed of lightweight, durable materials with an optimized high-performance fabric screen. To achieve optimal image quality the fabric screen is available in several color choices to match brightness and contrast values of the projection system.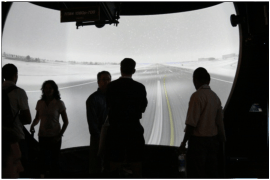 The standard sizes offered include 2- up to 6-meters in diameter, with larger sizes and custom field-of-view configurations available to meet most application requirements. All collapsible fabric domes are packaged for ease of transport and shipping.
Immersive Display Solutions also uses the collapsible fabric construction technology to produce standard size or customized light blocking structures. These light shells are designed to provide a highly efficient method of light blocking to ensure optimal image quality on the display surface. Each light shell is constructed of flame-retardant materials and designed to complement the collapsible dome by utilizing similar construction methods and materials.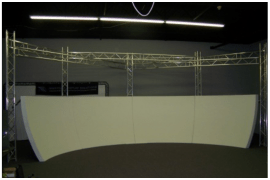 Immersive Display Solutions offers a full range of hard shell domes in a variety of standard sizes for applications that require a permanent installation. Hemispherical domes and cylindrical displays are fabricated primarily of fiberglass reinforced polyester (FRP) using flame-retardant materials that meet local fire codes. Each display is fabricated with a smooth, solid color gel-coat finish for optimal image quality with nominal wall thickness for structural strength. Domes are supplied either as a single-piece unit (1.5-, 2-m and 3-meter sizes) or molded in individual sections (3-m, 4-m, and larger sizes). All domes are inspected and pre-assembled in our QC facility prior to shipping to ensure ease of on-site installation. Domes can be installed through the base flange and/or hung from above through one of the bolt flanges. All assembly hardware and materials are included with each dome. Installation assistance is recommended for all hard shell domes that are molded in multiple sections.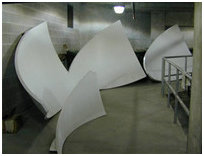 Fiberglass on-site "finishing" services are available for all IDSI displays, and includes assembly of the display, precision alignment, seam filling, seam sanding, priming all surfaces, and multiple coats of final finish coat. Finish coating can be custom formulated to provide a wide range of screen gains to meet the requirements of different applications and projector brightness settings.
Benefits:
Ideal for permanent or semi-permanent installations

Provides a seamless display surface for optimal image quality

Constructed from a range of materials including hard plastic (ABS), fiberglass reinforced polyester (FRP), and gypsum reinforced polyester (GRP)

Carbon fiber domes are also available for high kinetic energy motion platform applications

Larger sized domes are supplied in flanged sections for precise and easy assembly on-site
Standard sizes include the 2-m, 2.5-m, 3-m, 4-m, and 5-meter (diameter) hemispherical domes and IDSI can also produce custom sizes and shapes where the shape, diameter and field-of-view of the dome is modified per your specific needs.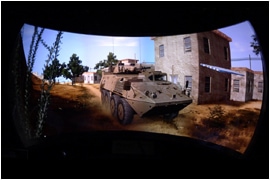 The Immersive Desktop is a custom reconfigurable, curved screen display solution from Immersive Display Solutions, Inc. Intended for small footprint, single-user, "out-the-window" type immersive applications, the Immersive Desktop provides unique flexibility in a rear-projection display environment. With customizable resolution combined with a variety of options for projectors, projection layout and footprint, the display meets a wide range of application needs and market requirements.
The initial desktop configuration consists of a rear-projected spherical surface providing a 30" radius, a 160-degree horizontal sweep of curvature and a 60-degree vertical sweep of curvature (+30°/-30° above and below the screen equator).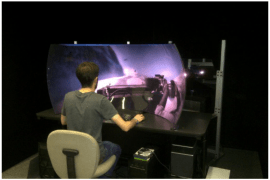 The display can be integrated with 2 up to 6 projectors offering a range of resolution from 2800×1000 (2.8 Million pixels, 3.3 arc-minutes per pixel) up to 5000×1900 (9.5 Million pixels, 1.9 arc-minutes per pixel). The operational footprint of the display varies by the number and layout of projectors and specific customer requirements. Configurations with fold mirrors are available to reduce the physical footprint and bundled software includes a fully-integrated auto calibration solution for the warp and edge-blending of multi-channel content into a single unified ultra-high resolution display.