OVERVIEW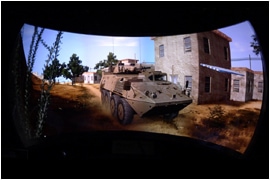 The Immersive Desktop is a custom reconfigurable, curved screen display solution from Immersive Display Solutions, Inc. Intended for small footprint, single-user, "out-the-window" type immersive applications, the Immersive Desktop provides unique flexibility in a rear-projection display environment. With customizable resolution combined with a variety of options for projectors, projection layout and footprint, the display meets a wide range of application needs and market requirements.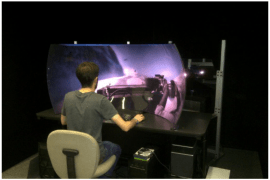 A number of training and simulation systems often require multiple-projector visual display systems to provide the image fidelity and brightness required by high-end applications. In these special cases, Immersive Display Solutions employs an integrated approach with key industry partners to provide design, engineering, integration and support of the overall visual system.
An ImmersiveDome display integrated with multiple high resolution projectors and auto-calibration edge blending software provides an amazing visual experience. IDSI's overall experience, creativity and cost effective approach toward defining the best overall solution in display and projection systems, when combined with the expertise of our partners, provides the customer with a total visual display solution that will exceed all expectations.
Multiple projector solutions offer a number of practical benefits, including:
Creates an affordable ultra-high resolution display

Uses low-cost, commercial, off-the-shelf projectors and equipment

Provides geometry correction for IDSI domes and panoramic displays

Automatically calibrates edge-blending to dramatically reduce set-up time

Provides best-in-class products from industry leading suppliers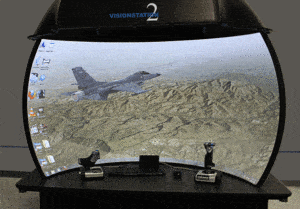 Simulators have to-date been large scale theater-level experiences, often involving entire rooms, while individual-based simulation and training have been neglected. Setting a new paradigm, the ImmersiveDesktop family brings high quality, high pixel count, fully immersive environments to the individual user.
Each VisionStation desktop display system envelopes the user in a 160×60 degree spherical environment. Its expansive field-of-view design, sets a new paradigm for affordability for a high quality, fully immersive visual system. It is delivered complete with screen, single- or multiple projectors, computer, sound system, and desk, so you can set it up, turn it on, and start working.
Immersion is the goal. Putting three flat panel monitors on a desk will show computer imagery, but is anything but immersive. The user is continually aware of individual windows attempting to represent the virtual environment. In comparison, each ImmersiveDesktop allows the user to be truly immersed in the virtual world and focus on the mission at hand. Geometrically accurate, high pixel-density images allow you to see and analyze visual data as never before.
Whether you need a cost-effective simulation experience for flight simulation, joint fires, fast ship, situational awareness, or another type of training application, the ImmersiveDesktop family of VisionStation displays has the optimal solution for the requirement.
Specifications
front-projected single projector solution, ideal for any user skill level
72" diameter x 160⁰H x 60⁰V
Single WQXGA – 3.9 arc-min/pixel
The VisionStation2 is pre-engineered and self contained for easy installation, so you can start training immediately.