OVERVIEW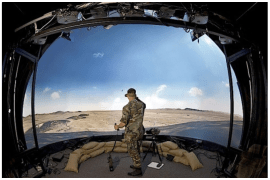 Immersive Display Solutions Inc. (IDSI) is proud to be able to supply a range of display solutions specifically designed for immersive Joint Terminal Attack Controller (JTAC) training. Our JTAC display solutions include partial domes, 360° domes, cylindrical and complex curved display solutions; each able to be used in a range of JTAC and Joint Fires applications. Our displays offer an integrated solution designed to support Joint Terminal Attack Control (JTAC) and Joint Fires training for JTACs, JFOs, FOs, and FACs, giving them the ability to conduct: fixed-wing and rotary-wing close air support missions, close air support using fast jet aircraft, and AC130 gunship call for fire. These elements, coupled with the supported indirect fire assets provided by the environment generator or SAF, allow trainees to conduct: procedural training, close air support planning, coordination and de-confliction of aircraft, suppression of enemy air defense, marking of targets, and the simultaneous attacks on targets using both fixed- and rotary-wing aircraft as well as indirect fire assets including mortars and artillery.
For more advanced close air support training, an immersive desktop station can be added to the training system as a low cost flight simulator to allow an individual to pilot either a fixed-wing or rotary-wing virtual aircraft. Using this pilot-in-the-loop, a ground based JTAC, JFO, FO, or FAC can coordinate directly with the pilot and work to talk the pilot on to ground-based targets, just as they would in the real world.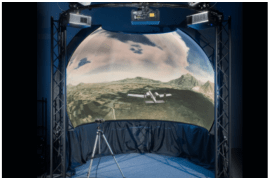 IDSI's JTAC immersive dome solutions are a key component of numerous programs that have been accredited by the Joint Staff for Type 1, 2, and 3 day/night, and laser controls. This accreditation, which allows JTACs to replace live controls, is vital for JTACs to maintain certification and currency.
IDSI has more than 45 years of experience in the design of visual display systems for simulation and training, as well as an additional 40 years of combined SME experience in JTAC and Joint Fires tactics, techniques and procedures. The combined in-house expertise provides an understanding of the requirements for both.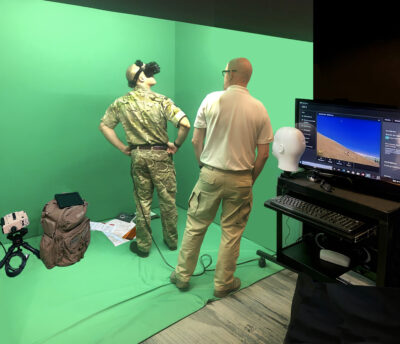 The IDSI ChromaXR Joint Fires Training System (JFTS) is a turn-key training solution which includes: a chroma key enclosure, high performance computers and a Varjo XR-3 Focal Edition (FE) Mixed Reality Headset. The system enables Joint Terminal Attack Controllers (JTAC) trainees to perform missions on a virtual battlefield with close air support interfaces such as 9-Line, 5-Line, and Call for Fire. The deployable (JFTS) system is shipped "ready to train" and is the ideal solution for both (JTAC) and Forward Observers (FO) to increase repetitions and sets in a realistic simulated environment.
System Description
ChromaXR JFTS is a "Mixed Reality" (MR) training system enabling hands-on, real-world training while immersed in a virtual Observation Post (OP). Several forms of Mixed Reality scenarios are supported including training with physical devices (ex: LTD, BINO, LRF). The Varjo XR-3 FE Mixed Reality headset has a short focal length for viewing objects at close range (such as an ATAK/WinTAK tablet) thereby expanding the training capabilities of the ChromaXR Joint Fires Training System.
Training Curriculum
Real-world training is supported by Battlespace Simulations' (BSI) MACE, a physics-based simulation and threat environment that provides computer generated forces featuring full-spectrum mission types including Joint Fires, Fixed/Rotary Wing, Electronic Warfare, ISR, and C2. ARMOR is BSI's Unity based 3D visualization system which allows for unmatched immersion into the synthetic battlespace when paired with the ChromaXR JFTS.
ChromaXR Datasheet
https://www.immersivedisplayinc.com/wp-content/uploads/2023/02/IDSI_ChromaXR_IDEX_IUJC_02142023_FINAL.pdf
ChromaXR Press Release
https://www.immersivedisplayinc.com/press-release-immersive-display-solutions-inc-and-varjo-partner-on-high-fidelity-mixed-reality-simulation-and-training-solutions/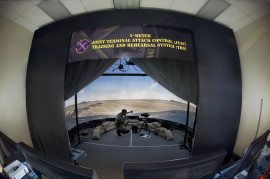 The JTAC Training Rehearsal System (JTAC-TRS) was developed at the Air Force Research Laboratory and included two ImmersiveDome 5-meter display systems. For the initial JTAC-TRS system, IDSI was a sub-contractor to Lockheed-Martin Information & Technology, and for the second device IDSI was a sub-contractor to L-3 Communications Link Simulation & Training Division. IDSI provided the visual system design, fabrication, and implementation for both 5-meter devices.
Each JTAC-TRS visual display system consists of:
Creates an affordable ultra-high resolution display

5-meter diameter 220° horizontal x145° vertical FOV fabric dome with an integrated light blocking enclosure.

The systems were supplied with an array of DPI (Digital Projection) iVision20 DLP projectors as well as a camera-based warp and blend solution.
Modifications to the second visual display system included increased FOV of the display as well as IDSI-designed projector light-block enclosures to allow limited night-scene testing and training. Initially installed in 2007 and moved to Wright-Patterson AFB in 2012, these domes continue to provide AFRL with a testbed capability to continue the research and development for training in all facets of Close Air Support and Joint Fires.
The JTAC-TRS system received accreditation by the Joint Staff to replace live controls, Type 1, 2, and 3, day only, and laser controls.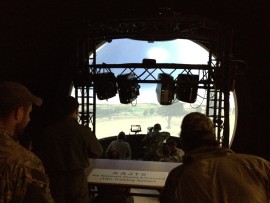 IDSI is providing the design, fabrication and visual system integration for the AAJTS Program, under a multi-year contract from prime contractor QuantaDyn Corporation. The AAJTS (Air National Guard Advanced JTAC Training System) is the US Air National Guard's program of record for all JTAC training, initially demonstrated by the Air National Guard, QuantaDyn and IDSI at I/ITSEC in Orlando, FL.
The AAJTS visual display system solution consists of:
ImmersiveDome 5-meter (diameter) 270° horizontal x 100° vertical FOV (+70/-30) fabric dome purposefully modified to meet the ceiling height requirements of the Air National Guard facilities throughout the United States.

Each system is supplied with a high-resolution multi-channel projector solution, using 14-channels of Barco FS35 WQXGA LED-IR projectors providing a "usable resolution" of better than 3.2 arc-minute per optical line pair (10% MTF), as well as an integrated camera-based warp and blend software solution.

By leveraging the 4th IR channel in the FS35 projectors, the use of actual NVG devices is optimized. The AAJTS dome provides the FOV and resolution necessary to allow the JTAC to train in all facets of Close Air Support and Joint Fires and plays a key role in the accreditation process.
The AAJTS has been accredited by the Joint Staff's Joint Fire Support Executive Steering Committee (JFS ESC) to replace live controls, Type 1, 2, and 3, day/night, and laser designation.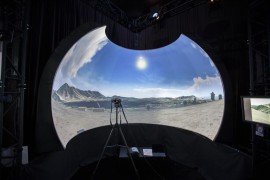 The Immersive Display JTAC Minidome is a packaged entry-level solution developed for a wide variety of immersive training applications. Specifically designed with a small footprint to maximize facility training space, the Minidome is a compact and flexible multiple-projector display solution enabling users to experience full-immersive training at a level not previously possible. IDSI has engineered the solution to accommodate 4, 6 or 8 visual channels, depending on the application, budget, and visual requirements.
Each ImmersiveDome system features a choice of display surface, fabric or hard shell

Available in several sizes and horizontal fields-of-view, 180-, 220-, or 240-degrees

Provides an optimized out-the-window visual scene using the latest DLP, and DLP LED projection technology

Also included are additional hardware or software components to optimize the multi-channel visual system, including an automated warp and blend calibration solution for geometry correction onto the spherical surface which blend an array of individual projectors to create a single seamless image.
This combination of components integrated in our system, designed for ease of installation and setup, provides each customer with a low-risk solution with minimal development requirements.